Sport center winter types in Ashgabad.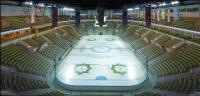 Enjoy the sights at a leisurely pace in Ashgabad.
Sports complex of winter sports turkmen Gyşky görnüşleri boyunça sport toplumy) - the covered sports construction located in Ashgabad on crossing of streets of Ataturk and Oguzkhan. One of the largest hockey arenas of the CIS.
Construction of the new Ice arena began in 2009. The president of Turkmenistan Gurbanguly Berdimuhamedov signed the relevant contract for the sum of 134,4 million euros with the Turkish company "Polimeks".
The arena, on crossing of streets of Ataturk and Oguzkhan, accommodation 10 thousand viewers. In a complex training halls, vacation spots of athletes and audience, cafe and other objects were placed. The total area of a new sports construction makes 107 thousand square meters.
In the center of the palace the ice arena of 60 by 30 meters in size was placed. Construction ended in October, 2011. Official opening took place the 19th, the same month and was dated for the 20 anniversary of Independence of Turkmenistan.
The Russian ice-hockey teams "Satellite" (Almetyevsk) and "Leopard" (Kazan), and also Podgala took part in opening (Nova Targ, Poland) and Maribor (Slovenia), they participated in the international tournament devoted to the Independence Day of Turkmenistan.
Authority:
On materials of information department of the State committee of Turkmenistan on tourism and sport.