Topar lakes in Kazakhstan.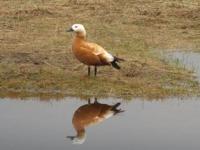 Almaty region Bird tours.
"Everything in excess is opposed to nature" 
Hippocrates.
Birding and walking Tours Almaty.
Topar lakes (The Orlovskie lakes) are formed by wide, flat floods of the delta of the river Ili. Topar lakes in Enbeksh-Kazakh district in the north of Almaty region are located. Topar lakes begin, from the settlement of Aral-Tobe and proceed to east coast of Lake Balkhash where the delta of the river comes to an end Ili.
Lakes are located in cane thickets their great variety. Among Topar lakes tiny inundated groves, lakes not big were stretched and only some of them have names. Extent of Topar lakes from the East on the West - 126 kilometers, the greatest width is 52 kilometers.
In the neighborhood of the delta Ili there are several big and small lakes which have the names, this lake Maksutkol, Sazanye, Chakpak, Koltsevoye, Melkoye, Bogushinoye, Beloye, Shabarkunan, Asaubay, Kagalykol, Bolshoye Naurysbayevsky, Blue, Trehgrannoe, Sarykol.
Indescribable beauty of Topar lakes, greatness of shady Asiatic poplar (Populus diversifolia) thickets in the Saxaul (Halohylon Bge) of the river Ili created one of the best places for observations of life of birds. Topar lakes can please ornithologists with observation of birds living in desert lakes in the inundated Asiatic poplar (Populus diversifolia) and Saxaul (Halohylon Bge) woods.
Authority and photos:
Alexander Petrov.