Tour Zhygylgan to Shakpaкаtasai.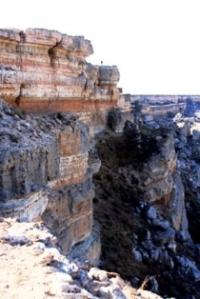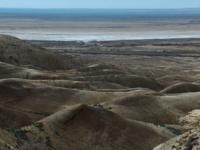 Culture tourism on Mangyshlak.
"The creation of a thousand forests is in one acorn"
Ralph Waldo Emerson.
Geographical location Mangystau region includes territory of Mangyshlak half-island, major part of Usturt plateau and southern part of Caspian lowland – Buzachi half-island. That amounts more than 16 million hectares of areas of natural deserts and semi deserts. There are several landscape areas there:
- foreshore of Caspian Sea with a big number of canyons and ravines,
- mountain massif Karatau,
- chalk and calcareous cliffs,
- sandy massives,
- clayey and salty bottoms of dry lakes,
- hollows.
Treelike and shrubby vegetation are rare. Earth is naked "to the bones" in Mangyshlak what gives superb possibility for geologists to investigate the aqueous rocks. Climate of the region is strong continental. Winters are harsh, windy and not snowy. Spring is short, dry and windy. Summer is hot, cloudless and long-lasting. Autumn is warm and long-lasting too. Caspian Sea surrounds Mangyshlak from the three sides but influences only a narrow seaside.
Climate there is more humid, temperatures are lower in summer and higher in winter. Annual average temperature is about + 10,5 + 11,5 °C. Absolute annual minimum temperature is + 26 + 34 °C; maximum + 43 + 45°C; surface heat reaches + 60 + 70°C.
The hottest period is from the middle of July to mid August. Autumn chills start in the end of October, spring chills end in April. Precipitation is poor. Annual average precipitation is from 140 -160 mm in the north to 90 - 12 - mm in the south. Rain showers are not rare in spring and summer. In the mountain area they may cause mudflows.
Snow cover on Mangyshlak and Usturt is small (3 - 7 cm) and unstable. Not all areas are covered with snow. As a result of high temperatures, poor precipitation and windy weather, evaporation exceeds precipitation in 10 - 15 times and air humidity is 40 - 60% only.
Short description of a route of round to depression Zhagylgan:
Almaty - Aktau - city the Fort Shevchenko - valley Zhygylgan - an archaeological monument Tubezhik - canyon Sultan epe - necropolises Karagashty-auliye and Ushtam (XVI - IX c.c.) - underground mosque Shakpak ata - canyon of Kapamsay - canyon of Shakpakatasay - Aktau - Almaty.
Distance of route: 379 km.
Season: from April 1th till September, 30th.
Best time for travel: April - June.
Duration of tour: 4 days, 3 nights.
Detailed program of round day after day to canyon Kapamsai and canyon Shakpakatasai:
Literary tourism in Kazakhstan.
1 Day. Almaty - Aktau.
Arrival in Актау, a meeting at the airport, transfer to hotel, accommodation. Excursion on city: visiting of town historical museum, orthodox church the Blagoveshchensk meeting house, visiting of town mosque Beket-ata, monument Taras Shevchenko on coast of Caspian sea, quay of city, walk in vicinities of cape Cretaceous, walk on central city area Intymak, walk in vicinities of city quay with panorama on town, sightseeing tour on city with visiting an old part of city. Sightseeing tour on town.  Overnight in hotel.
2 Day. Aktau - town the Fort-Shevchenko - valley Zhygylgan - archeologic monument Tubezhik - canyon Sultan epe - necropolises Kargashty-aulie and Ushtam (XVI - IX c.c.) (203 km).
Breakfast. Departure from Aktau. Transfer: Aktau – Fort-Shevchenko (135 km., asphalt road). We are going to visit a museum complex, dedicated to ethnography of the region, a local narrator Muryn and days spent in Mangyshlak by Ukrainian poet and artist Taras Shevchenko. Transfer: Fort-Shevchenko – Jygylgan valley (60 km on the country road). We are going to visit a grandiose geological cavity, situated at the seaside.
We will also give the petrified traces of animals of Neogene (sabre-toothed cats and hoofed, 15 mln years ago) a look-over. Visit to archaeological monument Tubezhik on the way. Foot walk (3 km) up and down the plateau 100 meters above sea level.
Transfer: Zhygylgan – Sultan epe canyon (30 km., country road). On the way visit to family burial grounds Kargashty aulie and Ushtam (XVI - IX c.c.). At the beginning of the canyon, its right side, there is a grave of holy Sultan-epe and an underground mosque. Visit to the mosque, walking around. Overnight in tents.
3 Day. Canyon Sultan epe - underground mosque Shakpak ata - canyon Kapamsay - canyon Shakpakatasay (176 km).
Breakfast. Transfer: Sultan epe – Shakpak ata underground mosque (30 km, country road). On the way visit to the chalky canyon Kapamsai, foot walk (6 km). Visit to the underground mosque Shakpak ata cutout in the rock. We will see unique drawings and epigraphy (X - XIII c.c.) on the walls of the mosque.
Transfer: Shakpak ata mosque – Aktau (140 km., country road, asphalt road). Our road goes through a big chalky canyon Shakpakatasay, where we will stop for walking. Arrival in Aktau, transfer to hotel, accommodation. Overnight at the hotel.
4 Day. Aktau - Almaty.
Transfer to the airport and departure from Aktau to Almaty.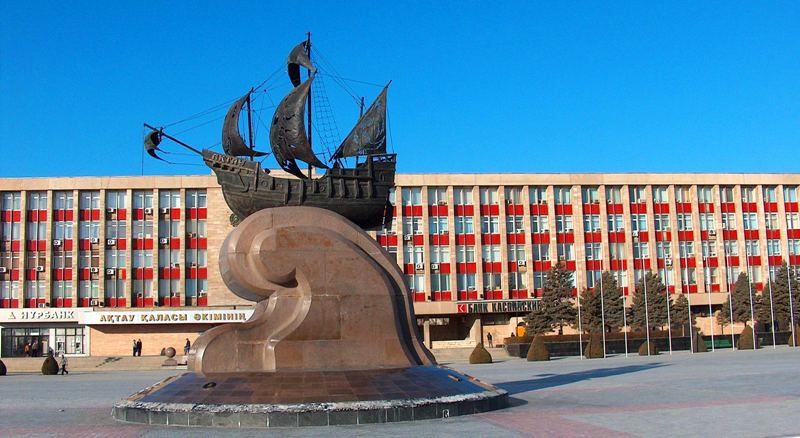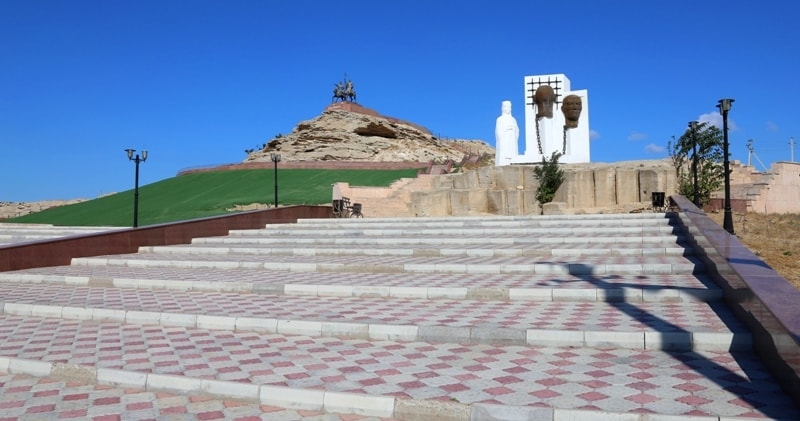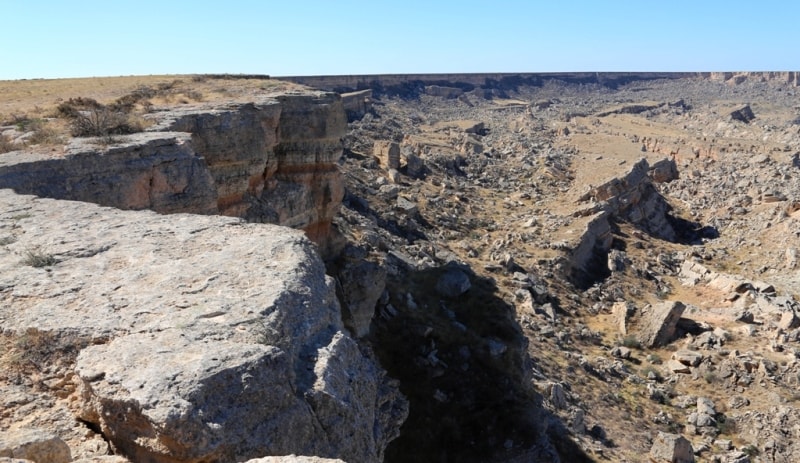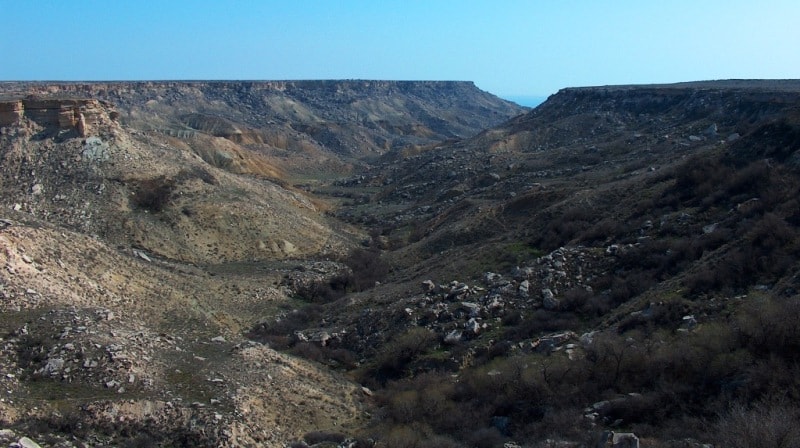 Note:
Author program is Alexander Petrov. Copying and introduction -  from the sanction of the author  petrovsra@mail.ru
Alexander Petrov
photos by.