Tourism in Fany mountains.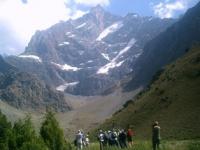 Take a ride in Tajikistan.
"To travel is to live" 
Hans Christian Andersen.
Excursion trip in the Fany mountains.
Fan Mountains is a popular tourist land located in the northwest of Tajikistan in Sogdiyskaya Oblast (region), Penjikent and Ayni Rayon (district). The boundaries of the land are the following: in the north - Zeravshan Mountain Ridge, in the south - Gissar Mountain Ridge, in the east - Yagnob and Fandarya Rivers, in the west - Marguzor Lakes Valley.
The area of Fan Mountains is convenient for driving. From Dushanbe the asphalt road leads to the largest lake of Pamir-Allay-lskanderkul Lake (length 2,5 km, the width about 1 km, depth achieves 72 meters, altitude - 2,255 m above sea level).
Fed by five glacier rivers, it empties itself in the Iskanderdarya River over a beautiful 30 m high waterfall. The cold lake itself has little life in it. The average water temperature in summer is about + 12 There is a shady tourist camp (turbaza in Russian,) on the lake's tip with beds and linen provided.
There are pit toilets but no showers. Restaurant service is of a poor quality. Advanced booking is not possible. For a shorter hike you can take half-an- hour's work to a waterfall or one-hour walk around the lake to the President's dacha.
There is no public transport to the lake, so it can be reached by shared taxi from Dushanbe (take the M-34 via Anzob Pass until the settlement Zeravshan, which is about 140 km north of Dushanbe and then tf's 24 km more south-east to the lake) or Khojent.
The second asphalt road passes ancient Penjikent. There is a network of asphalt and ground roads within the Fan Mountains. The area is very convenient for organization of many days trekking and hiking tours, which has many varieties.
Passing from one gorge to another gorge, from one most beautiful lake to the other more beautiful, passing infinite number of vertical rocky bastions with small dissemination of suspended glaciers the environment is perceived as something unreal.
Among most beautiful and from the climbing point of view the most interesting tops are as: Chapdara (5,050 m), Bodkhona (5,138 m), Zamok (Castle) (5,070 m), Mariya (4,970 m), Mirali (5,120 m), Zindon (4,800
m).
The Chimtarga (5,487 m) is the highest in this area, the peak, which can be reached by both simple routes and extra class routes, which pass the southern and western walls. Not only high tops, narrow gorges with noisy streams are characteristic for Fan mountains, but it has also numerous pure and multi-colored lakes.
The Iskanderkul Lake lies to the south of main mountains ridge, on the coast of which a tourist basis is located. This lake exists, apparently, not one millennium, and it was created in as a result of a mountain landslide, but the Big Alio Lake (3,140 m) in Zindon Gorge was created recently, in 1916, when the mass of rocks has slipped from southern slopes of the main mountain ridge and has filled up the gorge. By the way, in the lake area it is possible to meet rare flowers - edelweiss.
To north of the main mountains ridge in valleys, where at one time glaciers were flowed, there are the Big Kulikalon Lake and its neighbours - Chuqurak, Ziyorat, Bibijonat, Dushokha lies, and popular Alautdin Lake (2,700 m), near to which there is alplager (mountaineers' camp) "Artuch".
Who counted lakes ? How many of them? In addition to the largest lakes there is a set of small lakes and almost pools, with unique game of paints and nuances of light-blue color. The base camp in this area can be set up near surprising by color light- blue Alautdin Lake.
Up on gorge of the Chapdara River one can look through a beautiful gorge with majestic rocky bastions in both sides. This gallery is opened by a half kilometer Chapdara Wall on northwest, colored on sunset by surprising gold color.
Opposite it, on the other side of the gorge, the Adamtash ("Stone Person", 4,940 m) mountain mass with vertical bastions of northwest wall raises. Directly the logical route on northern crest leading directly on a top "faces" the camp.
Mentally we ascend from the lakes above on a peculiar corridor of the gorge, which in two hours of the path brings to beautiful Mutnye Ozera (Muddy Lakes, 3,490 m), located between western slopes of the Castle mountain mass and the eastern Chimtarga.
On the way to one after other from the left-hand side along the way as though first vertical bastions of Bodkhona mountain mass and further the Castle, when coming you overcome the last two steep rises. The northeast Chapdara Wall rises from the side gorge, located much below of the base camp. It is 1,500 meter smooth, almost plumb rocky wall is located at a huge semi-circus and as though opens all region of the Fan mountains, being the first visible sights for those who comes here for 10 - 12 hours by a long serpentine mountain roads punched in rocks along precipices of hundreds meters by depth, instead of arriving by a helicopter from Dushanbe.
From the Kaznok Pass (4,000 m) a beautiful view opens to grandiose southern and western walls of Chimtarga Peak with terrible pre peak bastion, on which a number of complicated rocky routes pass in parallel.
The Muddy Lakes are good bivouac before conquering these walls. A grandiose panorama of northern walls of Adamtash mountain mass (drop of 1,000 meters), Mariya- Mirali (drop of 1,500 meters) closes the gorge, hanging above a picturesque Dushakha Lake in all stern magnificence.
Ascending from Kulikalon Lake up, in two hours of walk you can approach the majestic northern wall of Mariya Peak, on which complicated combined routes pass in conditions of cold microclimate of the northern walls with the drop of height more than 1,500 meters.
The Alautdin Peak (4,237 m) raising over west of the Alautdin Lakes, is a good vision point of area, and can serve for first training climbing from the Alautdin Pass (3,730 m), where one can set up bivouac from the evening for the best acclimatization (2 - 3 hours of a walk from lakes).
The Zindon Peak (4,800 m), in translation into Tajik means "prison", closes the gorge Right Zindon by its northern wall, adding to the enclosing landscape a rather gloomy look. Really, a good place is not named by such word.
A kilometer plumb wall, which from above is crowned an ice "roof, looks terrible. Intense climbing here is complicated constantly wet rocks and flow of water from above, from which all walls have black damp patches.
Marguzor Lakes are seven small lakes - "Seven beauties" ("Nejigon", "Soya", "Gushor", "Nofin", "Khurdak", "Marguzor", "Azorchasha") which are located along the Shing River, to the southwest of spurs of Zeravshan Mountain Ridge, in two - three hours ride from Penjikent.
The "Marguzor" Lake is the largest in all chain of "Seven beauties" (so the people has named these lakes), its length being 4,5 km, the depth - 45 m, gentle - light-blue color, and is located at altitude 2,200 m above sea level.
In the vicinity of the lake one can see pictures of the primitive people on lime stone block, and also remains of ancient ore dressing factory, where you can gather a collection of stones of rare and exotic coloring. In the area of severe, cold lake "Azorchashma" you can see deep caves.
In one of them there are the deposits of Icelandic spat, and also you can see rare minerals malachite, mountain crystal, antimanit. "Nejigon" Lake is the pearl of all chain of Marguzor Lakes. The turquoise water, which has filled in deep hollow, seems motionless.
The dome of snow mountains, hanging above the lake, shines as gentle halo and pleases look with bewitching scale of colors. Flora and fauna of Fan mountains area is unique and accounts over 2,000 species of plants, many of which are medicinal.
Up to altitude of 2,200 meters there are many orchards and there grows nut, poplar, birch, willow, hawthorn, blackthorn, barberry, hedge rose and currant. At altitude of 3,200 meters the wood vegetation disappears, the slopes of the mountains are covered with the Alpine meadows.
Snow leopard, a white claw bear, mountain goat (teke), ram-arftar (Pamir argali Ovis ammon polii), wild-boar, wolf, fox, hare, marmot, ermine are not full list of the representatives of the animal world of this area. From birds one can find the mountain goose (u/ar), rock partridge (keklik), pigeons, eagles, hawk etc.
There are some venomous insects and reptiles but these are not numerous. Scorpion bites are not dangerous but very painful. Snakes live only in the lower reaches valley. The person found himself in the Fan Mountains will receive true aesthetic enjoyment, as literally after some hours from tree savin (archa) woods and greens, he may get in a zone of glaciers, alpine and eternal snow.
In addition to the above mentioned mountain-foot travelling and climbing in this area one can develop water tourism (canoeing, boating on the rivers by boats, kayaks, catamaran etc.) biking tours, paragliding, ski- mountain climbing (descent on a ski from mountain tops) and some other kinds of exotic traveling.
Travelers have done shorter and easier treks on their own and spent the night in the kishlaks (villages) and mountain pastures with shepherd camps, without any problems. Quite typical for the Fan Mountains in summer are numerous seasonal shepherds' camps, grazing sheep and goats on the high meadows. T
ajiks are very hospitable and often treat visitors to tea, home-made bread and dairy produce. Whether you take a guide or not depends on your experience, fitness and the sort of trek you want to undertake. But a guide can be useful to smooth contacts with the mountain population, especially for longer treks and if you do not speak Tajik or Russian.
In an emergency, a guide is also an extra pair of helping hands in a region where mountain rescue services are non­existent or ineffective. In most of the major villages in the valleys around the Fan Mountains it is possible to hire donkeys or horse together with handlers.
As the animals are required in the daily lives of the local Tajiks it is difficult to obtain them at short notice - it is best to book them well in advance. Local people will not carry luggage as porters. The animal drivers might not have a good knowledge of areas remote of their villages, in particular they are unlikely to know much about the mountains or about the routes up to harder passes.
The mountain guides can be easily organized in advance through the travel agency. In the mountains themselves tents are essential. There are plenty of good campsites and water quality is generally excellent. Bread, vegetables and some fruits may be bought in the towns and villages around the mountains.
A wider variety of food is available in the cities but it is difficult to the mountains. It is possible to purchase a goat or sheep in the mountains, which the locals will prepare. Between June and October the weather in Fan Mountains is normally dry and warm, and the nights at 2,500 m are also relatively warm.
In the November-May period the mountain slopes are dangerous on account of the possibility of avalanches and most of the passes are practically impossible. You can find information about other Tajikistan tourist sights in the section "Some cities of Tajikistan, their vicinities and sights", and also in the section "Tajikistan on the Silk Road".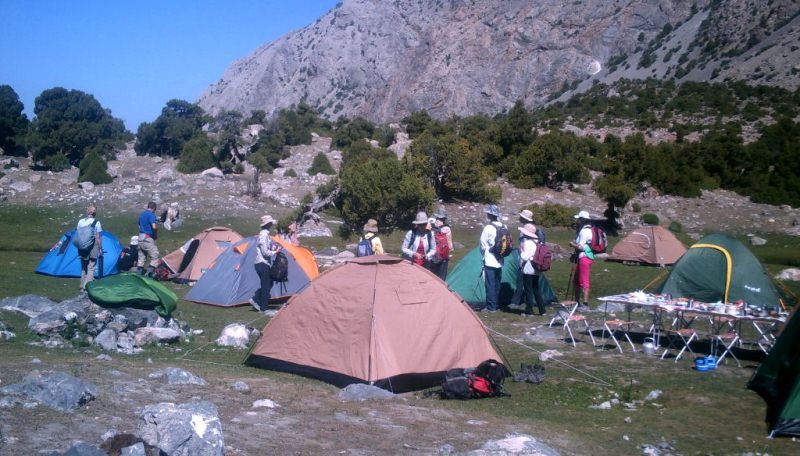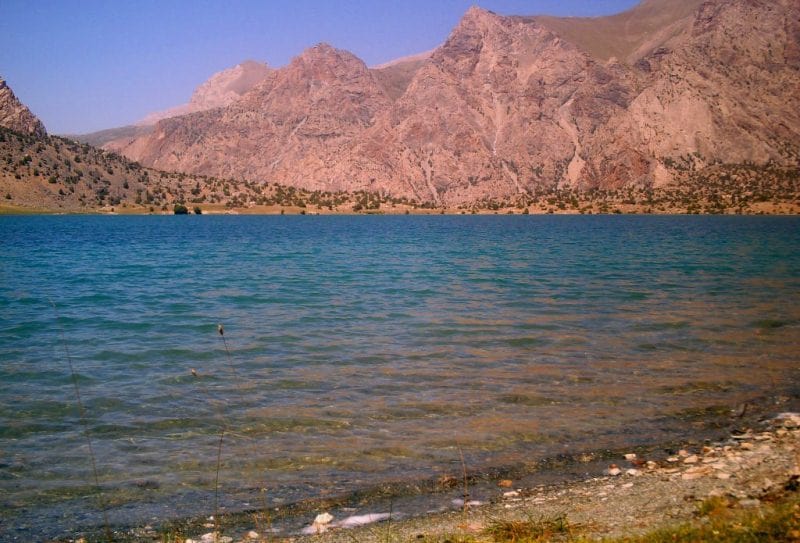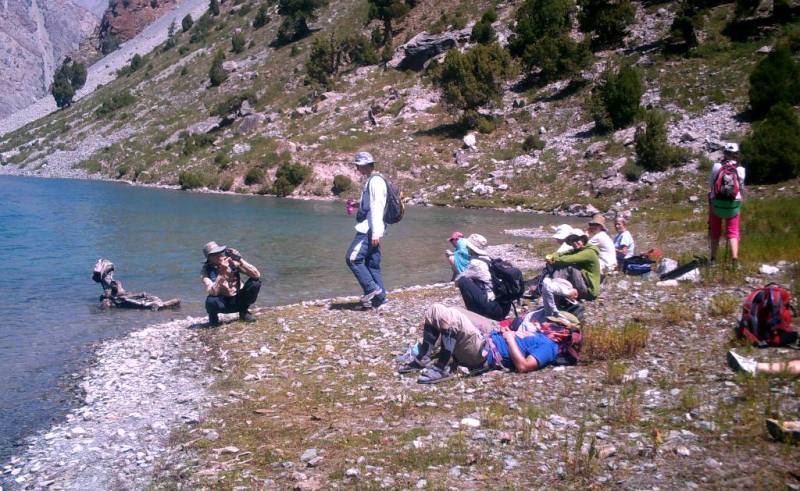 Authorship:
The Encyclopedia Tajikistan. Nature, history, culture, heritage. Publishing house "Idea". Moscow, 1968.
Photos by
Faridun Khamroev.