Trekking to glacier Bogdanovitch.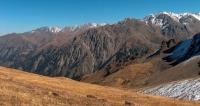 Easy one-day mountain hiking on glaciers of gorge Small Almaty.
«You speak, that there was I,
That I again did not wander,
That risings with declines
Observed from a window»
Jury Kukin. «You speak, that there was I».
The brief description of mountain route of hiking to North Tien-Shan:
Almaty - gorge Maloalmatinskoe - valley Medeo of 1690 meters above sea level - mud dam «Medeo» valley Gorelnik - mounting skiing resort Shymbulak of 2230 meters above sea level - pass Big Talgar 3163 meters above sea level - glacier Bogdanovitch of 3410 meters above sea level - Almaty.
Distance of route: 58 km.
Hiking season: from May, 1st till October, 30th.
Best time for hiking: June - October.
The advanced order: for 24 hours.
Duration of the hiking:  1 day.
The detailed program of mountain hiking near ski-resort Shymbulak:
Rock Climbing Routes in Kazakhstan.
Transfer: Almaty - valley Medeo (15 km). Our way from city in valley Medeo conducts on the south on the central street of city - Dostyk, after boundary school is passed Spa centre «Luxor» which is to the right of road, then passed numerous cottages on both parties of road, further to the right of road, on turn on Kamensk the plateau is luxurious hotel "Roal Tulip".
Further we pass construction an ecological post at which now will be new earmarking. Right at the beginning of natural boundary Medeo to the left of road there is first station cable way, travelling on which it is possible to get on ski resort Shymbulak.
From here our travel to mountains Zailiyskiy Ala-Tau begins. Rise on cable way from valley Medeo to high-mountainous ski resort «Shymbulak» (4, 5 km, 15 minutes). It is the third in the world cable way on extent. At rise on cable way on «Shymbulak», the magnificent kind on mountains Northern Tien-Shan with tops opens: Tchkalov of 3800 meters above sea level, Abaya 4010 meters above sea level, the Schoolboy, Komsomol of 4376 meters above sea level.
Below floats an ice skating rink «Medeo», mud dam in Small Almaty gorge, from the right party from us valley Gorelnik, small river Small Almaty (Almatinka), the road leading from Almaty on resort «Shymbulak». Arrival on ski resort «Shymbulak». Walk on viewing platform with kind on city and mountains.
Continuation of rise on the second cable way «Kombi-1» on terminal station "Kombi-2 " (1,7 km, 10 minutes). Arrival on terminal station "Kombi-1 ". Photographing of panorama of city and vicinities of mounting skiing resort from panoramic platform at station.
Continuation of rise on the second cable way «Kombi-2» up to pass Big Talgar 3168 meters above sea level (1,5 km, 8 minutes). Short walk in vicinities of pass Big Talgar.
Hking: pass Big Talgar - glacier Bogdanovitch (5 km). From pass Big Talgar our way lays on southwest on good track. Soon we pass Zimin stone which Schkolnik is on the southwest party from peak. Before us opens rocky files of peaks of the Teacher and the Pioneer.
In the West peak Amangeldy, peak Komsomol is well visible - the highest peak in Small Almaty spur is closed behind mountain ridge. Glacier Bogdanovitch the most glacier inclined to Almaty located in Small Almaty spur Zailiiskiy Alatau in southwest from the Big pass Talgar. The glacier is under east slope of peak Komsomol (Almaty).
The glacier is named by glaciologist S.E.Dmitriev in 1911, in honour of professor K.I.Bogdanovicha of researcher Vernyi of earthquake of 1910. Lunch on nature, rest.
Returning to pass Big Talgar. Descent on Cable way in valley Medeo. Returning in Almaty.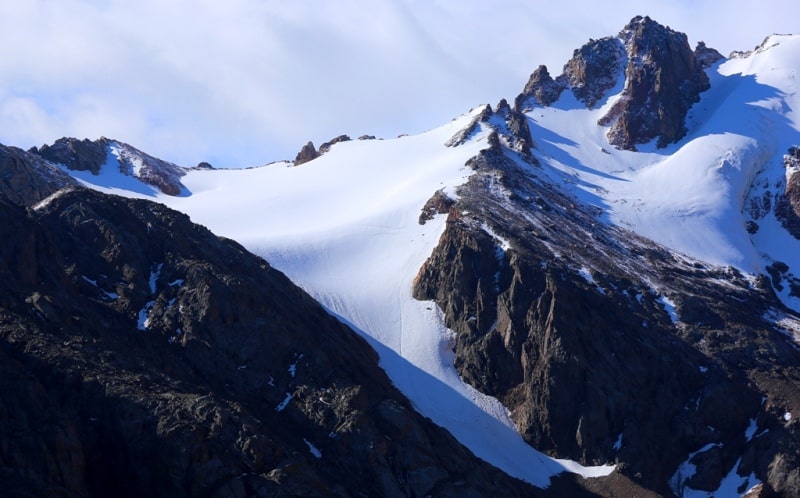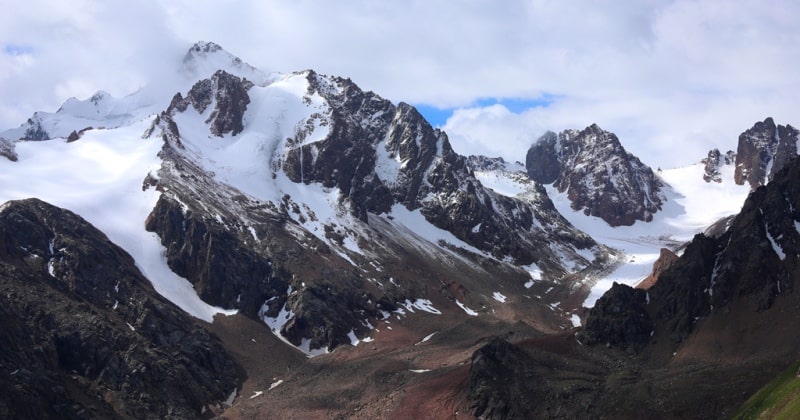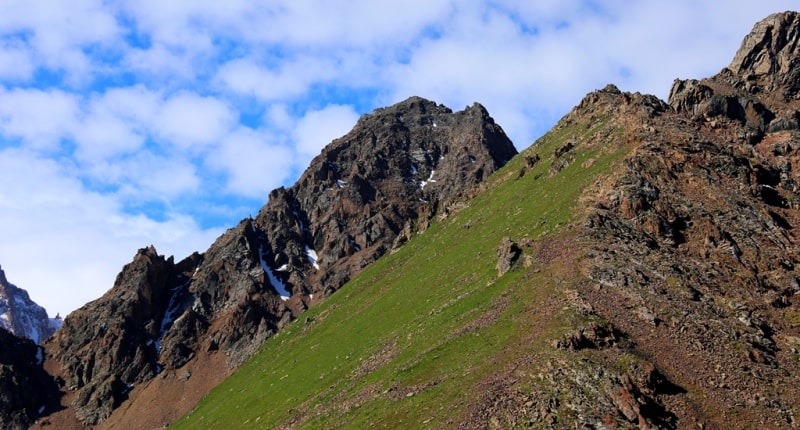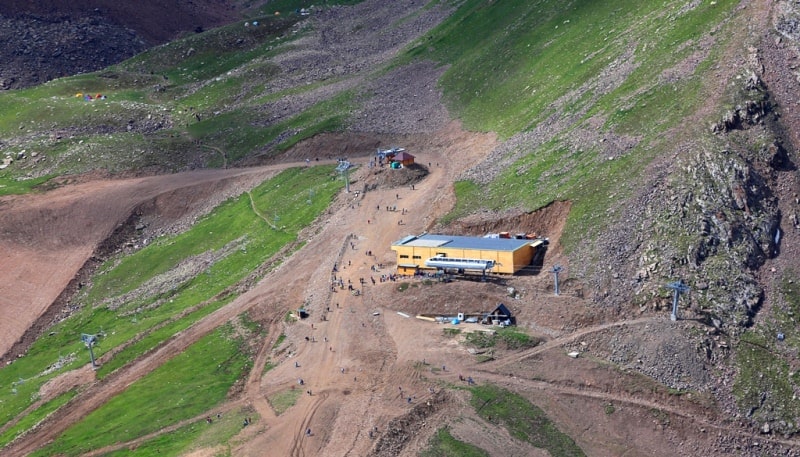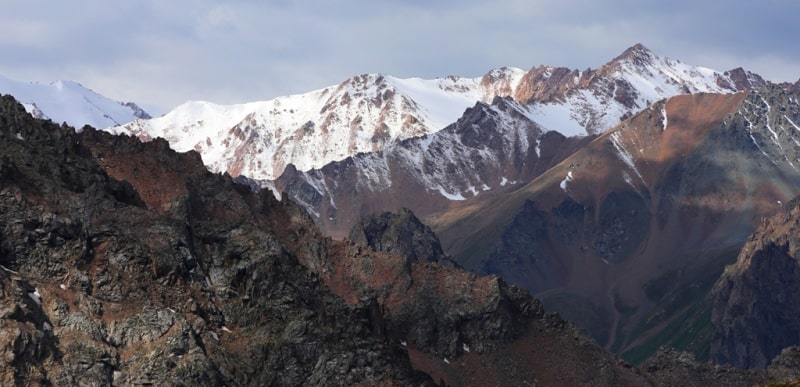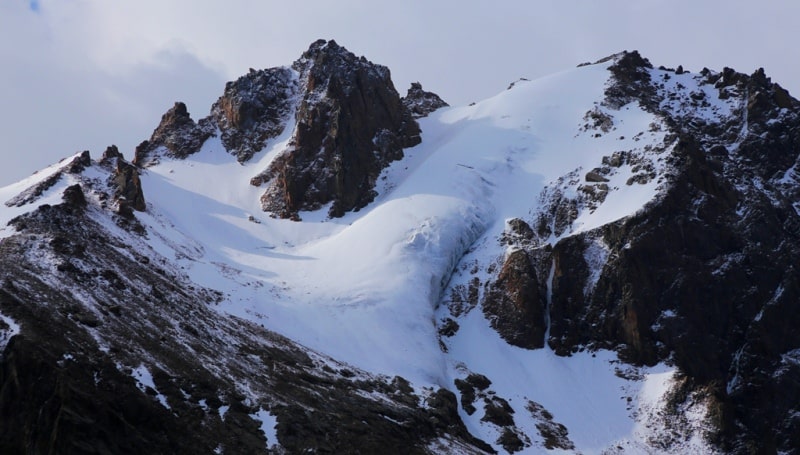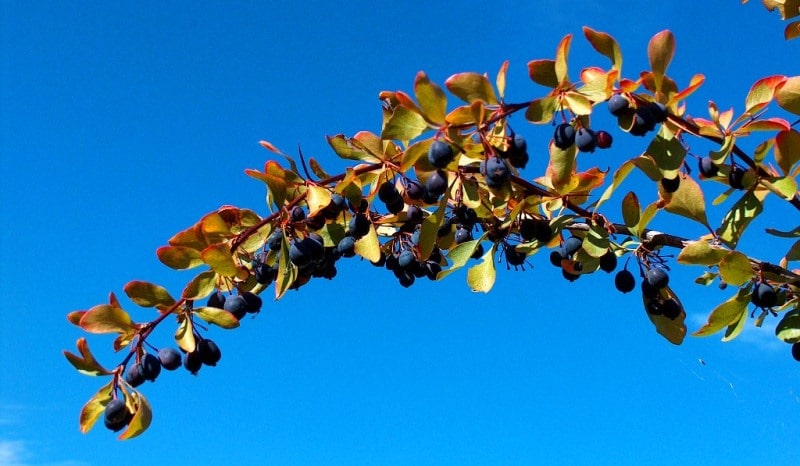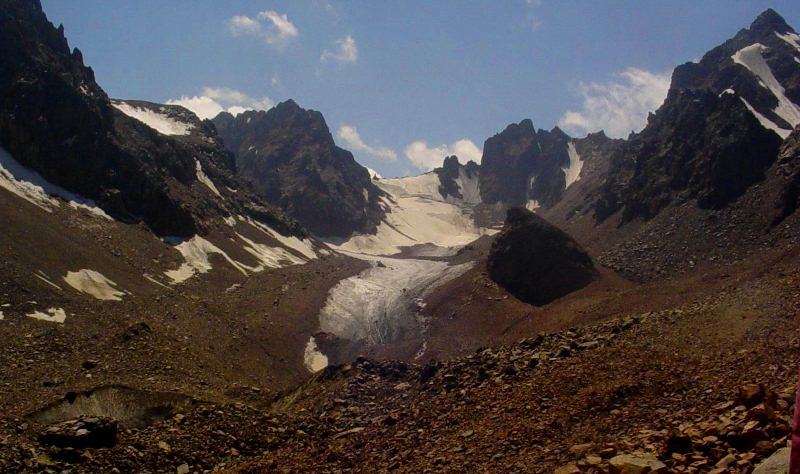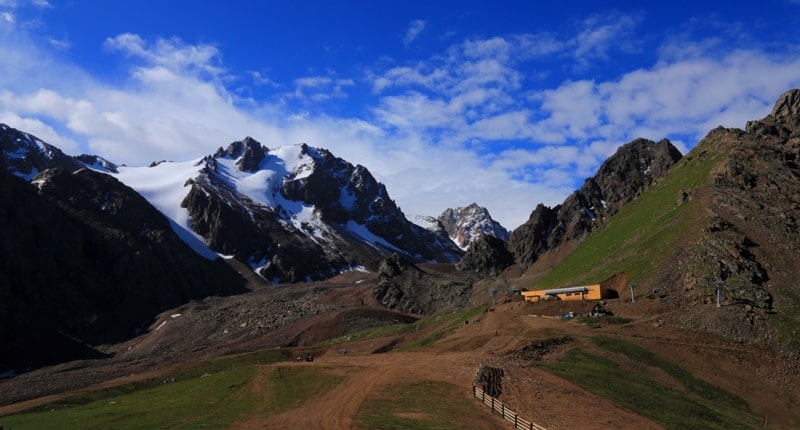 Note:
The author program is Alexander Petrov. Copying and introduction -  from the sanction of the author  petrovsra@mail.ru
Alexander Petrov
photos.