Ugam gorge in Kazakhstan.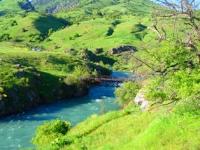 Tours in Ugam gorge in Sairam-Ugam park.
"It is untrue that equality is a law of nature. Nature has no equality; its sovereign law is subordination and dependence" 
Luc de Clapiers de Vauvenargues.
Sights of the Ugam Gorge.
Ugam gorge is located on the northern slope of the Ugam ridge in the mountain system of the Western Tien Shan in Kazygurt (administrative center - Kazygurt village) and Tolebi district (administrative center - Lenger village) of Turkestan region.
The gorge is located on the territory of two branches of the Sairam-Ugam National Natural Park - Toleibi and Kazygur. Ugam Gorge is the most picturesque gorge of the Ugam Mountains and Sairam-Ugam National Park.
The Ugam River flows through the Kazakhstani part of the Ugam Gorge from the headwaters on the northern slope of the Ugam Range to the 55-kilometer crossing of the state border of the Republic of Kazakhstan and the Republic of Uzbekistan.
At a distance of one kilometer and 100 meters along the river, there is a border between Kazakhstan and Uzbekistan between the mouths of the right tributaries of the rivers - Karakuzisai and Kurgantaysay. At the mouth of the right tributary of Karagashsai is the small village of Ugam.
In the Ugam gorge there are pensions, a holiday home and summer camps for children. Starting from the village of Ugam to the left side of the gorge Ugam adjoin deep, picturesque canyons of rivers composed of colorful clays.
Authority:
Alexander Petrov.
Photos used
with permission of Alikhan Abdeshev, Tourism Manager of Sairam-Ugam National Park.