Upper Kolsay lake.
Tour to Kolsay lake Kazakhstan.
"The state is a creation of nature and man is by nature a political animal"
Aristotle.
Botanical tours Kolsay lake Kazakhstan.
The Kolsai lakes are one of the treasures of the Northern Tien-Shan. These three mountain lakes, set :imong steep pine-clad slopes, nestle in a spur oftheKungei Ala-Tau. This is a wonderful place for camping, hiking, pony-trek-king and mountain hiking.
The nearest village is Saty (320 km fromAlmaty). The lowest lake, at a height of 1,818 m, stretches for 1 km. It is accessible by road and there are comfortable guesthouses and campsites.
The middle Kolsai lake (2,252 meters above sea level), the largest and most beautiful, is 5 km from the first lake. The highest of the Kolsais is 4 km further and 600 m higher up. After another 6 km you reach the Sary-Bulak Pass (3,278 meters above sea level) on the Kyrgyzstan border, with superb views over the blue Lake Issyk-Kul.
The whole 25-km trail can be covered in a day on horseback or three days on foot. The lakes are teeming with trout. The third (Upper) lake is the smallest one and sits 6 km above the second one, right on the border of spruce forests and Alpine meadows.
The height drop between the Lower and Upper lakes constitutes 800 meters. The water in the lake is very cold. This area has a highland climate: jay temperature in summer is 30 °C, and night temperature – 5 - 10 °C.
The season starts in June and ends in September. The region has rich flora and fauna, and all the lakes have trout. There are plenty of mush­rooms, cherries, berries, etc. The Kolsay Lakes are a tourist destination.
There are comfortable! guesthouses and camping sites here. A 25 km tourist route has been elab­orated - it covers all three Kolsay Lakes, as well as the Sary-Bulak pass that leads to Lake Issyk-Kul.
A walk­ing tour takes 3 days, and a horse-tour - 1 day.
Geographic coordinates of the Upper Kolsai Lake (the third Kolsai Lake): N42 ° 54'38.70 "E78 ° 20'38.08"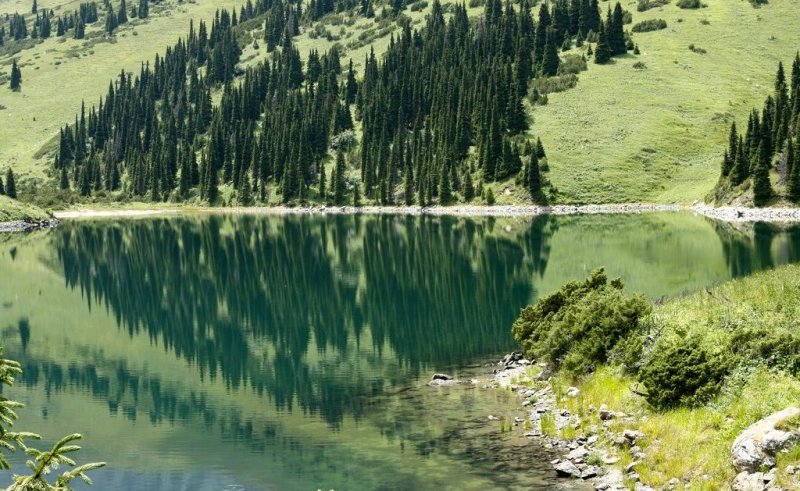 Authority:
From the advertising guidebook across Kazakhstan. The ministry of tourism of Kazakhstan.
Photos by
Roman Stesenko.