The wintering of Sarsembay.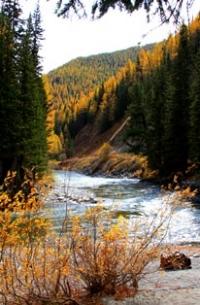 Campaign with a backpack to Altai Kazakhstan.
"On the way and in prison friendship more brightly is always born abilities of the person are shown"
Camping trip to mount Belikha Kazakhstan.
The wintering of Sarsembay or summer settlement of the shepherd Tursynkhan is in the Katon-Karagaysky Region of East Kazakhstan region in the territory of the Katon-Karagaysky national natural park. Every year in June shepherds wander from Bukhtarma's valley with herds of pets here.
Here on a wild grasses of juicy Alpine meadows for the cattle an open space, during the summer they gain weight and enough vital forces. The wintering is located on the right river bank White Berel and on the southern slope of the ridge Katun Belki at the height of 1795 meters above sea level.
Distance from the Yazevy lake prior to a wintering of Sarsenbay of 18 kilometers, to the bridge which is near Nizhny Novgorod of the camp of 15 kilometers. The wintering is slightly away from the old highway on which molybdenum-tungsten ore from the mine Kok-Kol during the period from 1938 to 1854 was delivered.
Authority
Alexander Petrov.