Monument to Shakshak Zhanibek.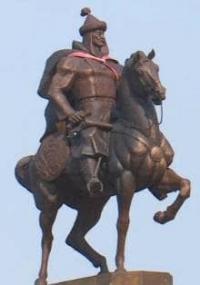 Express Kazakhstan Tours.
"Contentment is the eternal enemy of movement.
Soul to strive for heights.
Gives rise to satiety - satisfaction,
But only by movement can one accomplish feats!"
Ella Wilcox.
Monuments in Kostanai.
The equestrian sculptural monument to the batyr Shakshak Zhanibek is located at an altitude of 166 meters above sea level, located on the transport ring, at the main intersection of Karbysheva and Uralskaya streets and the road to the airport, in the western part of the town of Kostanay.
On September 14, 2017, a monument to the batyr, the first Tarkhan Shakshak Zhanibek, was unveiled in the city of Kostanay. The monument is an integral composition with a total height, from the level of the square, is almost 15 meters.
This is a three-stage podium with a main staircase, a pedestal with a 6-meter equestrian sculpture. The sculpture is imbued with the spirit of the great commander. The equestrian sculpture reveals the image of Tarkhan Shakshak Zhanibek, a commander, an active participant in the historical "Anyrakai Battle", who defeated the Zhungar troops, a diplomat, a statesman with the appropriate attributes - a saber, a shield and a scroll of the state Diploma in his right hand.
The image of a magical tiger is depicted on the shield as the patron of the batyr and gives special solemnity. The fluttering cape and rounded volutes of the saddle almost touch the horse's mane. The pedestal has a strict classical architectural form, made of polished granite blocks.
The monument of the rider and the horse is cast in bronze, the pedestal is made of granite, the entire equestrian sculptural monument was made in the Almaty region. The author of the sculpture is Kadyrzhan Kakimov.
The monument was built at the expense of the Zhanibek-Tarkhan charitable foundation.
Geographical coordinates of monument Shakshak Zhanibek: N53°12'28.63" E63°35'30.27"
Authority and photos by:
http://kostanaytv.kz/ru/news/ruhanizhangyru/pamyatnik-shakshak-zhanibeku-otkryt