Historical Museum of Shakshak Zhanibek.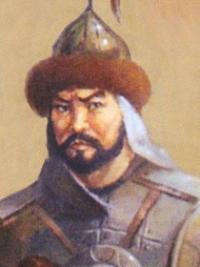 Ancient monuments of Kazakhstan.
"Karakerey Kabanbai
Қanjyғaly Bөgenbai,
Kaz dauysty Kazybek,
Shanshak Uly Zhunibek
Ormandai kөp Orta zhүz
Sodan shyқty turt tirek."
Bukhar Zhyrau.
Museums in village of Torgai.
Museum named after Shakshak Zhanibek, in the settlement of Turgai, Dzhangeldin district of Kostanai region, was built to the 300th anniversary of the birth of the outstanding commander, batyr, diplomat Shakshak Zhanibek Koshkarula and was commissioned on August 27, 1993.
The fourth, the most recent museum of the complex, dedicated to Shakshak Zhanibek, has been added to the existing museums. The building is distinguished by a more striking architecture, which is dominated by oriental elements.
The museum has two exhibition halls, a living room and an administration room. The exposition of the museum contains a copy of the order of Shakshak Zhanibek from the Orenburg Museum. List of documents, including in the 37th decree of July 11, 1743 the assignment of the title "Tarkhan" to batyr, biy of the Middle and Younger Zhuz to Zhanibek.
This document was lost in the XIV century, the revival of the rank in the XIII century was a letter from Lieutenant Urusov to the Empress that Zhanibek should be prevented from unleashing violent wars with the Volga Cossacks.
Among the valuable exhibits of the museum is a letter from Zhanibek to Empress Elizabeth in 1747. The letter is in Arabic. In it Zhanibek writes about the death of Abulkhairkhan, and asks to express condolences to the family.
After 2 months, he writes a letter again, in which he says: probably they misinterpreted you because of my Tatar, now we will meet not on Kazakh land, not on Russian, but on China. From here we see that our ancestor was a diplomat.
Another valuable exhibit is a fragment of the banner of Tarkhan Zhanibek's grandfather Shakshak Batyr. A fragment of the banner was presented to us by our grandmother Galia from the city of Almaty from the family of Abdrashit Bektemisov, a descendant of Shegen.
Authority:
http://muzei-torgai.rka.kz/ru/