Peak Sayram.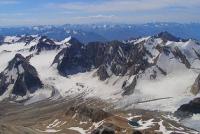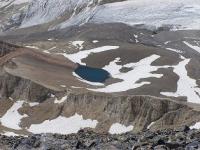 Ascensions on peak to Sayram.
"To hang on the first hammered hook something it is similar to the first lovemaking: all your attention is concentrated on one very small feature"
Walks on Sayramsu gorge.
The highest peak of the Ugamsky ridge the peak to Sayram is located at the height of 4236,1 meter above sea level. In the south from peak to Sayram mountains of the Pskem ridge which are in the territory of the Republic of Uzbekistan are located.
In the east the ridge of the Ugam ridge props up mountains of the Talas Ala-Tau, the northern part of the Talas ridge is in Kazakhstan, the most part of the Talas mountains is located in Kyrgyzstan. On a direct air-line from the city of Shymkent to peak to Sayram 74 kilometers.
Ascension on peak to Sayram begins from Sayramsu gorge from where approaches and climbing the known mountain more than 4000 high as well on other tops of the Ugam ridge are laid. In the neighborhood of the Sayram massif there are a lot of rivers, the main of them, it is the river Sayramsu which is formed of two main inflows of the rivers - Karzhaylau and Silbili.
In the southern part of the massif the river Ayutor which flows into the river Maydantal flows. The East side of peak to Sayram is adjoined by border of the Aksu-Zhabagly national natural park. In the massif of peak many routes of ascensions are laid to Sayram, generally it is rocky routes.
In May on peak to Sayram or on the next tops the international climbing festival is held. The territory of ascension is in Sayram-Ugam national park. The Ugam ridge is in the mountain system of the Western Tien Shan.
In memory of Vladimir Vysotsky the Kazakh climber Mars Sadykov established a plate with Vladimir Semenovich portrait at peak to Sayram.
Authority:
Alexander Petrov.
Photos
Mars Sadykov.