Pskem Mountains.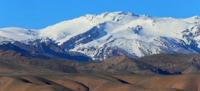 Exclusive tours in Samarkand.
"Nature reacts not only to physical disease, but also to moral weakness; when the danger increases, she gives us greater courage"
Johann Wolfgang von Goethe.
Individual tours in Bukhara.
To the east of Ugam Ridge, parallel to it, stretched the second branch of the Talas Alatau - Pskem Mountains . It stretches in a south-westerly direction for 130 km. In height he was somewhat superior Ugamsky - the average height of a steep and powerful range 3000 - 3500 m Mountain. 
Beshtar (4299 m) - the highest point of the whole system of Western Tien Shan, a member of the limits of Uzbekistan. The crests of the main and lateral ridges narrow, rocky, pointed peaks, steep slopes, dissected by deep gorges and gullies. 
Significantly impede the movement of rocky cliffs, scree and clusters of large stones. The pool Chirchik riverThis ridge acts as the main watershed between the rivers Pskem a left tributary Oygaing and Chatkal with the right tributary Chandalash. 
The bottom of the river is rocky, many rapids, sometimes continuous rapids, rocky shore. The rivers do not freeze all year round. From the slopes Pskem mountain range , within the Republic, drain numerous powerful Sai and mountain streams, such as - Aksarsay, Mashtosgonsay, Spanish , Minzhilkiev , Kaptarkumush, Badaksay, Pskemsay, Ihnachsay, Dzhamaltor, Beshtor, Tunduksay, Cox Baykyraksay, Aktapchigay, Tastarsay, Shabyrsay. 
Only the western slopesPskem Ridge are within Uzbekistan. Here in Charvak basin , located between the spurs of the Chatkal, Karzhantauskogo Pskem and mountain ranges , built a reservoir and hydroelectric power plants
Authority:
http://orient-tracking.com
Photos
Alexander Petrov.