Tour from Bukhara to Margush.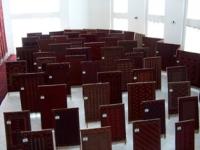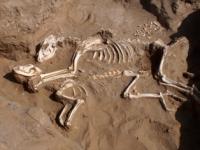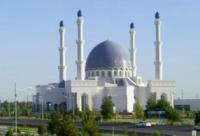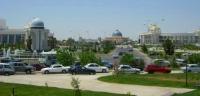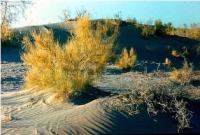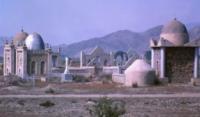 Tours on sights of ancient Merv.
The brief description of route of tour from Bukhara in Turkmenabad and ancient cities of Margush:
Bukhara - Turkmenabad – nature reserve Repetek - Mary town - Bairam-Ali town – ancient Merv – Margush ancient settlemen - Ashgabad.
Distance route: 670 km.
Season: year round.
The best time for an excursion: April, May, September.
Duration: 5 days and 4 nights.
The detailed program tour day by day on ancient monuments of Turkmenistan:
Individual excursions on Turkmenistan.
Day 1. Bukhara - Mary (353 km).
Breakfast. Early departure Bukhara. Transfer: Bukhara - settlement Zhandor - settlement Karakul - settlement Alatat - check point «Farab» (98 km). Arrival on check point «Farab». A meeting on Uzbek-Turkmen border, passage of formalities Uzbek and Turkmen boundary and customs services.
Transfer: check point «Farab» - settlement Pier Farab - Turkmenabd (40 km). lunch at local restaurant. The further transfer: Turkmenabad - settlement Bairam-Ali - Mary (255 km). In 72 kilometers from Turkmenabad there is a unique sandy reserve Repetek where the well-known cobra lives. Our way lays on northwest in town Mary through desert Karakum. Arrival in Mary, transfer in hotel, accommodation, dinner. Evening walk in vicinities of the central area and a new mosque. Overnight in hotel.
Day 2. Trip on site of ancient settlement Gonur-depe (250 km). 
Breakfast. Trip on excursion in ancient country Margush (125 km, from them the road passes of 50 kilometers on desert). Lunch on the way. Visiting and excursion on ancient excavation of capital of the ancient country Gonur depe, Zoroastrian temple "Temenos", Necropolis (3000 burials). Picnic lunch in Margush. On the return route visiting the Parthian fortress Childburdj and caravan saray Gebekly. Arrival in Mary, visiting of town ethnographic museum. Dinner and overnight in hotel.
Day 3.  Mary - monuments of ancient Merv (67 km). 
Breakfast. Early transfer to the airport. At 8:00 departure to the city of Mary (40 minutes of flight). Arrival in city airport of Mary, meeting at the airport. Transfer: airport - town Bayramali (29 km). Visit of the historical and cultural reserve ruins of ancient Merv.
Visit to the ancient settlement Abdullah khan Kala (XVth century). The ancient settlement Abdulla-khan Kala of Abdullah ibn Burayda is located in the Vekil Bazaar area of the Merv oasis. The structure was built towards the end of the eleventh century under Seljuk rule. It was recently restored in 1990, which fashioned its surrounding area as a namazgah. While the restoration has been faithful to the original style of its interior, the exterior has been largely altered. Older drawings indicate that the new dome raised on a new drum stands about two meters taller than the original structure. 
Transfer to mausoleums Askhabs (6 km). Musoleums Askhabs associates of prophet Mohammed were called - Bureid ibn Al-Khuseib al-Aslami and Al-Khakim ibn Amr Al-Gifari. After death, places of their burial places were local sanctuaries around of which in XV century representatives of dynasty Timurids have constructed a religious complex. Their tombs from a black marble are decorated by a relief groove with vegetative ornaments and inscriptions. Behind tombs two cost restored aivans.
Transfer to ruins of fortresses Big and Small Gyz kala (2 km). Visit of ruins of fortress Small Gyz Kala. 
Fortress ruins Small Gyz kala, in the historical and cultural park ancient Merv is one of ancient and historical sights of Mary Region. Approximate age of construction VI - VII century. Uniqueness of a construction in corrugated walls from not burned brick. Small Kyz kala small fortress badly remained up to now. The architecture of walls Small Kyz kala of a calla, most likely too reminded a goffering which is formed by the linked semicircular or polygonal pilasters.
Visit of ruins of fortress Big Gyz kala. Greater Gyz kala - small fortress, badly remained up to now. Big Kyz kala consisted of two floors. The first floor had five rooms, and the ladder conducting down passed through an arc-shaped corridor. Planning of the second floor can only be imagined by the remained fragments. The second floor also had about five rooms located around the courtyard. Big Kyz kala with corrugated, as if put pleated, like an accordion, walls. They are put on earth ramps with an easy inclination. Small windows are hidden pleated walls.
Transfer and visit of the mosque of Kyz Bibi (600 meters).
Visit of the medieval town Sultan-Kala.
The ruins of Merv are comprised of five walled cities dating from the VIth century BC to the XVIIIth century, known as Erk Kala, Gyaur Kala, Sultan Kala, Abdullah Khan Kala and Bairam Ali Khan Kala, grouped into three settlements corresponding to three periods, the ancient, medieval and post-medieval Merv. What would later become a major medieval city, and whose ruins are now known as the Sultan Kala, initially arose as a suburb beside the Majan canal outside the fortified ancient city (the ruins now known as Gyaur Kala) sometime before the eighth century. 
Visit Sultan Sanjar mausoleum. Gaunt and huge in the middle of Sultan Kala is the mausoleum Sultan Sandzhar, completed in 1140 as Moscow was being born. Its other dome, 38 metres high and originally clad in blue tiles, was said to be visible a day's march away. A second inner dome appears to be supported by a lattice of brick ribs but these are probably only decorative.
Transfer and visit of citadel Shakhriar Ark (800 m).
Transfer and visit of a minaret and Hoji Yusup mosque (800 m).
Transfer and visit of the mosque Beni Mahan (3 km).
Visit of the ancient settlement Erk kala. Hill Erk-kala, settles down considerably to the south Yaz depe, adjoining with medieval Old Merv. In VI - IV c.c. Up to B.C., in days of domination of the Persian tsars, the strengthened city borrowed the area in 12 hectares here settled down. He has been enclosed thick - 6,5 m in the basis - by a fortification. Excavation have found out to Erk kala the layers concerning by times of tsar Dariya and Alexander the Great.
Visit of the ancient settlement Gyaur kala. The end of an excursion across Ancient Merv. Transfer: Ancient Merv - town Bayramali - airport of Mary (29 km). Arrival in the airport, departure to Ashgabad (40 minutes). Arrival in Ashgabad, meeting at the airport, transfer to hotel, dinner and overnight.
Day 4. Ashgabad.
Breakfast. The beginning of excursion across Ashkhabad. Visiting of mosque Ertogrulgazy is one of the most beautiful mosques of Ashgabad, constructed in turkish style, the biggest is in town. On a mosque there is four minarets a height of each of them of 62,22 meters In a mosque, considered the house of the God, on a ground floor there is a man's hall, on the second floor there is a female hall. In halls can simultaneously pray up to 5 000 person.
At manufacturing domes and roofs of a mosque lead in quantity of 160 tons was used. Visiting of a monument of the Neutrality also known, as the Arch of the Neutrality - constructed in 1998, height of 95 meters, including 12 a meter sculpture - the highest construction in Turkmenistan with gold statue Turkmenbashi at top. In 2010 the monument has been dismantled with its carry on a today's site. Inside of a construction there is the Museum of Neutrality consisting of 3 halls.
Visiting of the state national historical museum of Turkmenistan, in halls new, constructed after acceptance of independence, the National museum valuable archeological finds of ancient history of Turkmenistan are presented. In funds of museum - tens man-made monuments of traditional craft creativity and a folk art XVII - XIX centuries. Weaving, an embroidery, ceramics, rug weaving, products of jewellers. In total in an exposition more than 2500 exhibits.
Lunch at local restaurant. After lucnh excursion in a museum of a Turkmen carpet. In a museum there are some hundreds the best samples of carpets Turkmenistan, the oldest carpet concerns to XVII century. Here there is a second-largest carpet in the world of manual work - «Golden Age Great Saparmurat Turkmenbashi» which area makes almost 301 square meters, weight - more than ton. Walk on «Track of health».
It is possible to carry "Track of health" to sights of Ashkhabad "Serdar-Yoly" which is on southern slopes Kopetdag of a ridge «Asma Yoly" in 12 kilometers from town. It is the concreted foot road, length of 36 kilometers and width of 5 meters which passes on slopes Kopetdag of a ridge.
On a precept of the first president each inhabitant of Ashkhabad should pass daily on this path for maintenance of the health and a tone. Rise on cable a way on one of tops of a ridge Kopetdag. Walk on vicinities and road of health «Serdar-Yoly». Survey of Ashkhabad from height of the bird's flight. Returning to Ashkhabad. Dinner. Overnight in hotel.
Day 5. Ashgabad.
Transfer to airport. Departure from Ashagabat.